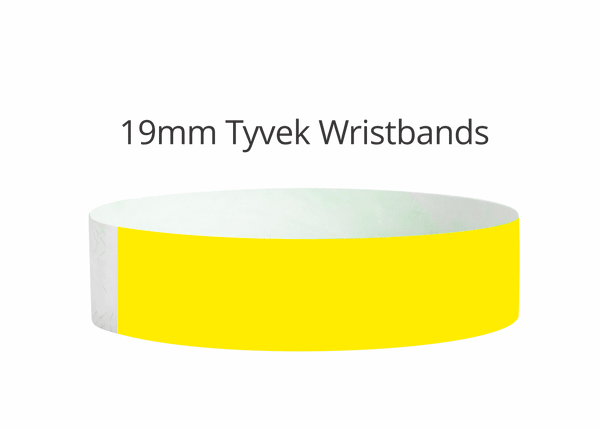 100x Neon Yellow 19mm Plain Tyvek Wristband
$12.65
Tyvek is a tough non-toxic & water-resistant fibre made from polyethelene. These fibres are then woven and pressed to form a paper-like material. It is stretch resistant and can't be transferred from person to person, making it an ideal security wristband. Our Tyvek wristbands have a tamper evident adhesive security seal, designed to tear when removed, and are uniquely numbered for added security.

These plain Tyvek wristbands are ideal for short events such as parties, concerts, and other events.

They are secure, cheap, water resistant, and highly customisable.

Available in numerous colours for high visibility. One size fits all.

Each pack contains 100 wristbands.

Width x Length - 19mm x 250mm
Recommended use is 1-2 days
The recommended shelf life of Tyvek wristbands is 12 months
Each Tyvek wristband is numbered on top of the adhesive for easy visibility.
Each packet contains 100 consecutively numbered wristbands.
Uses a strong adhesive closure that will adjust to every size wrist.
Security die cuts are integrated into the adhesive closure to prevent individuals from detaching and transferring the wristband.
Tyvek can be written on.
The underneath part of the wristband is solid white, and doesn't reflect what's on the front.
Offered in several solid colors accompanied by a variety of prints.
All Tyvek wristbands are one time use and disposable.

* Actual colors may vary from the website.
---